Meet the Team
---
Brandon Hough
Director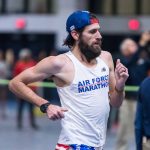 Brandon Hough is the Director of the Air Force Marathon organization. Brandon oversees the budget, coordinates with on and off base partners, assists with contracts, and helps the team by removing roadblocks wherever they may appear.
Brandon graduated from the Air Force Academy in 2011 and was assigned to Wright-Patterson AFB as a contracting officer. While serving he obtained a Masters in Sports Administration from Xavier (go Musketeers!) and began to work races in his spare time. Upon separating from the Air Force in 2014 Brandon joined the running industry full time where he oversaw the operations of 20+ annual races in southern California to include but not limited to runDisney, Catalina Island Marathon, and the Anaheim Angels 5K. He moved back to Dayton, Ohio in 2017 to be with his wife and joined the AFM team in spring of 2018.
Brandon is a passionate runner who competed in high school, at the Air Force Academy, has run the AFM 3x in 2012, 2013, and 2016, and to this day still runs competitively. When he is not running he enjoys listening to music, backpacking, spending time with his wife, and playing with his Newfoundland (Poseidon), adopted mutt (Fam), and adopted cat (Forest).
Rachael Ferguson
Assistant Director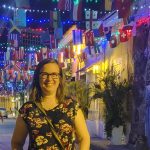 Rachael Ferguson is the Assistant Director of the Air Force Marathon organization. Rachael oversees much of the contracting process and handles the emergency management of the event as well as working closely with the logistics coordinator on the execution of the moving pieces.
Rachael began working with the Air Force Marathon in 2014 as the office administrator and has worked her way through being the Events Manager for a year and a half to now being the Assistant Director. She received a Race Director Certification through Road Runners Club of America in 2013 and enjoys running the half marathon distance for pleasure, not speed.
Rachael has an associates degree from Sinclair Community College in modern languages and global studies, and is currently studying at Wright State University for a bachelors in Spanish and International Studies. In her free time she enjoys reading, writing, spending time with her family, and doing non-profit mission work with the country of Colombia.
Jordan West
Logistics Coordinator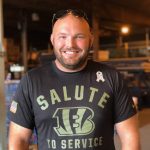 Jordan West is the logistics coordinator for the Air Force Marathon organization. As the logistics coordinator, Jordan oversees and coordinates all the components of the course from traffic control plans to medical and hydration stations. He works closely with the different entities on base to bring this event together. Jordan also trains active duty personnel to provide security and safety at stations along the course on the day of the marathon.
His passion and involvement in the marathon began back in 2010 when he served on orders through the Air Force Reserve. The atmosphere and camaraderie on marathon day was so infectious that Jordan sought out a more permanent role with the marathon in 2015.
When not on the job, Jordan serves in the 87th Aerial Port Squadron at Wright-Patterson Air Force Base. He has been a part of the squadron for fifteen years and currently works in the passenger terminal section. He lives in Kettering with his wife, Libby, and golden retriever, Minnie. In his free time he likes to travel and spend time with friends and family.
Jasmine Redman
Events Manager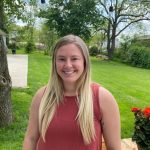 Jasmine Redman is the Events Manager for the Air Force Marathon organizatoin. Jasmine coordinates and executes all ancillary events surrounding race weekend. She also oversees the sustainability program by working closely with the Council for Responsible Sport.
Jasmine graduated from Bowling Green State University in 2015 with her bachelor's degree in Sport Management and again in 2017 with her master's degree in Sport Administration.
Jasmine has a passion for all things running. She started running cross country and track in middle school and competed for BGSU's cross country and track & field teams throughout college. In her spare time she enjoys running, hiking, camping, and hanging out with her dogs, Cuda, Willie, and Steve.
Rachel Nipper
Volunteer Coordinator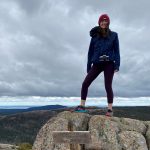 Rachel Nipper is the Volunteer Coordinator for the Air Force Marathon organization and she assists with all aspects of volunteer recruitment, management, training, and retention. She also oversees the registration software, Race Roster, for all AFM events and both the Charity Partner and Corporate Running programs.
Rachel graduated from the University of South Florida with a bachelor's degree in Interdisciplinary Social Sciences and previously worked in volunteer services at a nonprofit in Florida before moving to Ohio. Rachel has been with the Air Force Marathon since 2019.
In her free time, Rachel loves to bake, travel, play board games and spend time with her dog, Kartoffel, and cat, Val. In addition, Rachel is currently enrolled as a graduate student at Ohio State University for Orientation & Mobility.
Chris Meister
Sponsorship Coordinator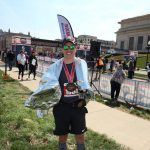 Chris Meister is the Sponsorship Coordinator for the Air Force Marathon organization. He oversees the sponsorship program for all AFM events.
Chris graduated from Ohio University in 2013 with a bachelor's degree in Sport Management. In May 2020, Chris earned his Master's of Sports Administration from Ohio University as a graduate of their PMSA program. He joined the Air Force Marathon team in 2021.
A native of Springfield, Ohio, he now lives in Centerville, Ohio with his wife, Lisa. In his free time, Chris enjoys soccer, running, cycling, writing, and spending time with his family.
Alexandra Hausfeld
Marketing Coordinator
Alex Hausfeld is the Marketing Coordinator for the Air Force Marathon organization. Alex oversees various marketing aspects such as social media, advertising, external communications, design, and website content.
Alex has worked in the marketing industry since graduating from Miami University in 2011 with a bachelor's degree in Marketing. She began her career at the Shedd Aquarium in Chicago before moving overseas where she worked for the 88th Force Support Squadron at Ramstein Air Base. Alex has been with the Air Force Marathon team since 2017 where she started in the sponsorship role before transitioning to the marketing role in 2019.
When she's not on the job, she enjoys traveling and hiking with her husband and daughter, spending time with family and friends, and reading (or more likely listening to) a good book.
Matthew Crooker
Operations Coordinator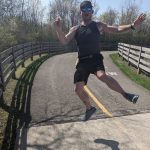 Matthew Crooker is the Operations Coordinator of the Air Force Marathon organization. Matthew turns team thoughts into reality, creating plans and layouts for team members, and solving complicated issues as they arise.
Matthew graduated from Cincinnati State Technical and Community College in 2013 with an Associate's degree in History, and the University of Cincinnati in 2016 with a Bachelor's in History. He graduated Cum Laude from both Cincinnati State and the University of Cincinnati. In 2019, he graduated with a Master's in History from Wright State University, and wrote his Master's Thesis: "Cool Notes in an Invisible War: The Use of Radio and Music in the Cold War from 1953 to 1968."
He was featured in the Strava film, "Becoming a Marathoner," and ran his first marathon, the New York City Marathon, in 2019. In his spare time, he bowls (he has bowled a 300), listening to music (especially from the 60s and 70s), and loves spending time with his fiancée Mackenzie and Mom.
Chloe Fogle
Intern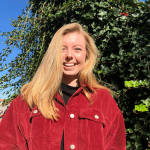 Chloe Fogle is the 2021-2022 Intern for the Air Force Marathon organization. Chloe works with each member of the team to learn more about their responsibilities and the details of the marathon. She also assists with jobs pertaining to each individual's area of specialty.
Chloe completed a year at Lee University before transferring to Wright State University. She is currently studying for her Bachelor's in Business Management. She hopes to one day start her own business. In her free time she loves to travel, read, play and coach volleyball, and work in ministry.
---